EXPLOSION PROTECTION SYSTEMS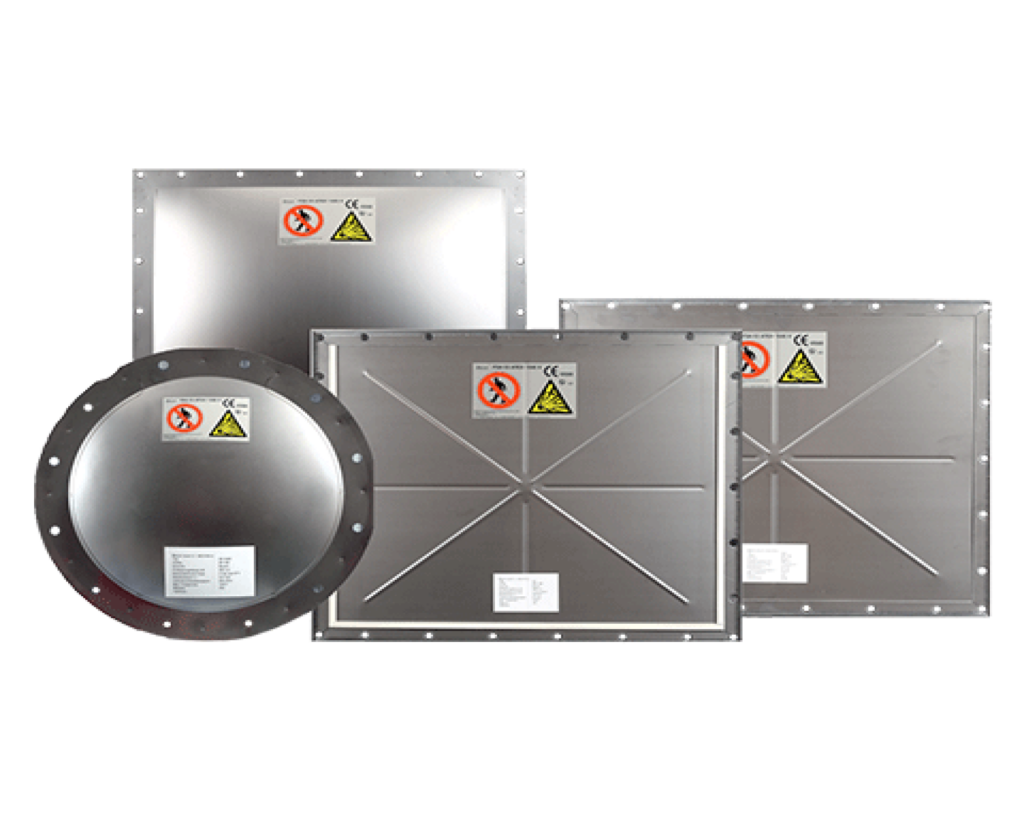 EXPLOSION VENTING DEVICES
The RSBP membrane is the perfect economical solution for protection against damage and loss in production caused by the explosion.
Under normal operating conditions, the venting opening on the technological equipment is covered by the explosion venting panel. When the operating pressure level increases inside the device, the venting panel opens, and thus the pressure and flame are released from the protected space.
The technology is exposed to a lower pressure than its pressure resistance and hence won't be destroyed. Effective dust explosion venting, including light metal dust, gas, and hybrid mixtures. Explosion venting device is certified according to EN 14797 standard.
FLAMELESS EXPLOSION VENTING
The Flameless explosion venting in enclosed or internal spaces without the propagation of flame, dangerous pressure, and heat to the surrounding environment. As a result, equipment and technologies located in difficult-to-access spaces can be protected by flameless explosion venting without the increased costs associated with the installation of conventional explosion venting devices.
SparkEx® Spark Detection & Extinguishing System Prevent Fire and Burst in Industrial Procedures
SparkEx® Spark Detection & Extinguishing System Prevent Fire and Burst in Industrial Procedures
The Spark Detection and Extinguishing System is designed to detect sparks and embras, that might become the ignition source for a fire or an explosion if allowed to travel on through vents or conveyors towards other material-handling equipment or storage. One spark entering a dust collector handling combustible dust is enough to trigger a dust explosion. Smoldering combustible solid conveyed into a storage silo can become the nucleus of a raging fire.
The purpose of our Spark Detection and Extinguishing System is to intervene early by detecting and extinguish the ignition sources of explosions and fires, rather than attempting to contain and handle fires and explosions, which – at that point – already may have caused damage to equipment, structures and personnel. It is just good sense.
Our Spark Detection and Extinguishing system consists of; Spark Detectors, a Control Unit, an alarm module and optional Automatic Extinguishers, Booster System and a Control panel.
SparkEx System Components
The Sdn 'Night Light' Spark Detector
The Sdd 'Daylight' Detector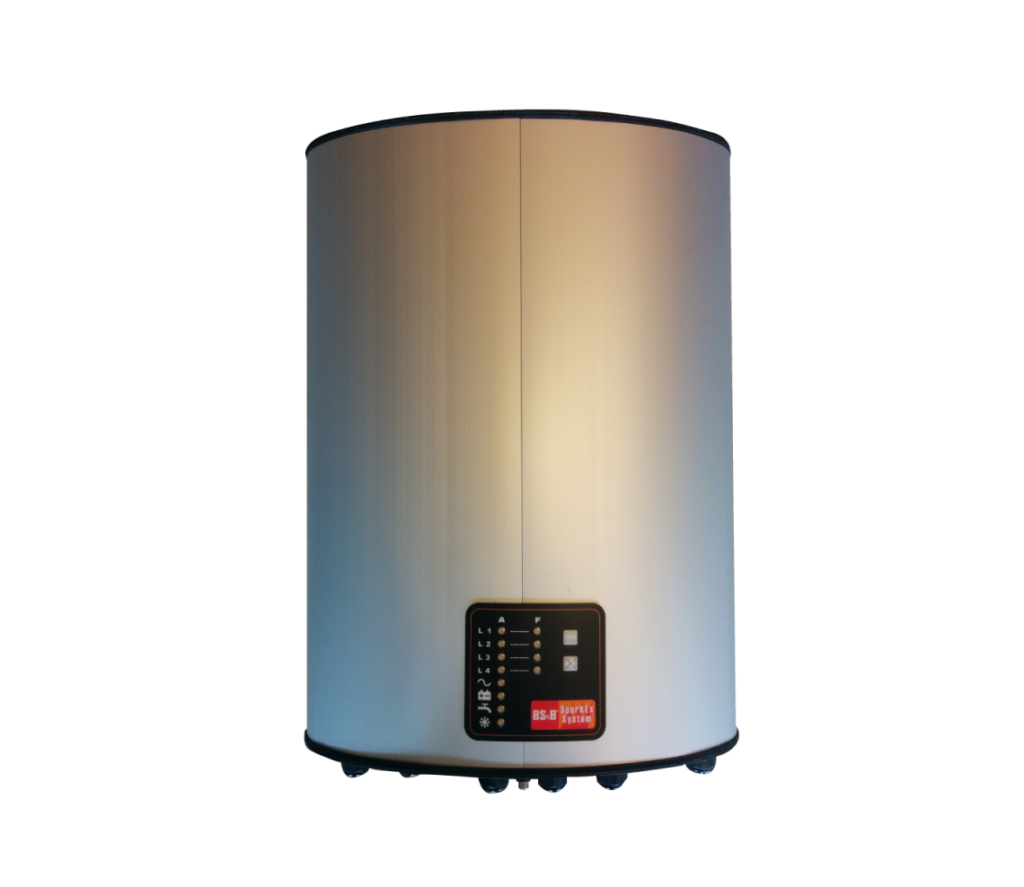 Automatic Extinguishers, Sa1 – 4
SparkEx System Components
Explosion Suppression and Isolation Systems
The Type IPD Explosion Suppression System provides protection of process enclosures where dust suspended in air represents an explosion hazard. The early stages of the pressure rise associated with a dust explosion are detected by the Unitized Sensor which is mounted to the equipment to be protected.
When at least two of three individual pressure sensors within the Unitized Sensor respond, an electrical signal activates the Explosion Suppression Cannon(s) installed on the equipment causing the pulverized suppression agent (food compatible sodium bicarbonate) to be energized & discharged from the front of the Cannon into the equipment. This extinguishes the early stages of combustion of the process material before it builds into a deflagration which can generate a pressure spike exceeding the strength of the process equipment.